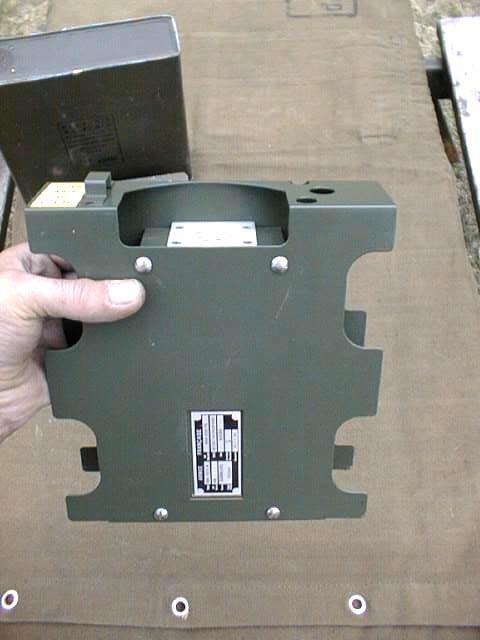 BA-511A Power Supplies for PRC-8,9, 10
Solid state French made Switch-Mode power supplies for the PRC-8,9, 10 military Manpack radios. Replacement to a BA-279 battery. Originally used 4 French PS-41 15 Volt batteries wired in series and parallel to produce 30VDC.
The PS-41 Batteries are no longer available, nonetheless the unit can be used with any other combination of batteries which produce 24-30 VDC. The unit then makes all the voltages necessary (1.5,6,67.5, 135 VDC) and plugs straight into the PRC-8,9, or 10 radio set. The actual power supply, less its surrounding metal work along with suitable batteries can comfortably fit inside the radios battery box.
BA-511A power supply can also be used with other radio sets requiring similar voltages.
BA-511A Usage Instructions
The BA-511A works with any combination of batteries which together produce 24-30 Volts DC.
2 * 12 Volt YUASA Dry Acid Burglar Alarm type batteries work well and are small to fit in to the battery box of the radio along with the PSU box and are rechargeable.
Take the BA-511A apart and remove the 4 pins that are held by circlips. You would have 2 wires, a (Usually a Black - wire) and (Usually a Red + wire). The polarity is also marked on the PCB, please double check this before proceeding. Sometimes the wires can be the wrong way around, but the PCB markings are always correct.
Banana connectors can be used as power connectors on the PSU box to allow battery removal for charging. Fix the coloured banana plugs through 2 of the holes that the pins used to occupy.
Put everything back together less the pins. You don't have to use the metal surround of the PSU, with-out it you would have more room in the radios battery box for bigger batteries. The higher the capacity of your batteries the longer the radio would work on air between charges.
Please Note, The BA-511A is presently out of stock. If you have some for sale please contact us.
In the mean time to get your radio to work have a look at this Power up in our articles section.