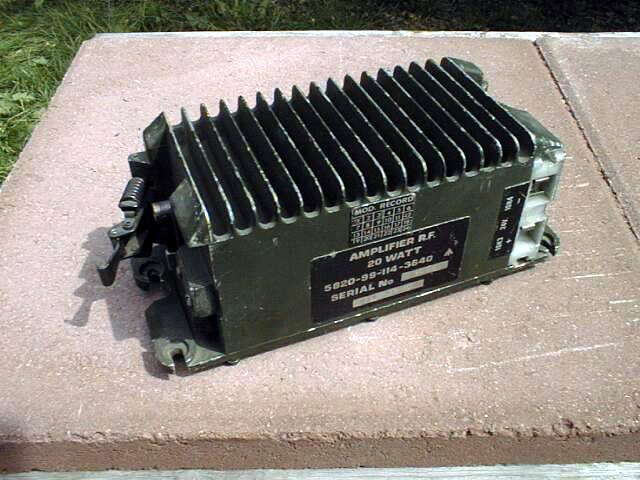 The Clansman PRC-351 / PRC-352 20 Watt RF Power Amplifier effectively upgrades the 4 Watt output of Clansman PRC-351 to a 20 Watt PRC-352 Radio.

Operating frequency of this RF amplifier is in the VHF band of 30-76 Mhz in 3 selectable ranges: 30-40 Mhz, 40-55 Mhz, 55-76 Mhz. Requires 24 VDC to operate.

The amplifier can not be used on high power transmit using the radios normal whip antenna and instead a Ground-Spike Antenna is used. The amplifier can only be used on high power as a fixed radio station or in a vehicle using the vehicles antenna system. For mobile man-pack operations the battle antenna is fitted and the radio is operated on low power bypassing the amplifier as a PRC-351.

The RF amplifier works with other VHF radios and needs about 1.5 watts of input power to produce 20 Watts of output power. Connections are by standard BNC antenna plugs. NSN: 5820-99-114-3640. Supplied in good condition.