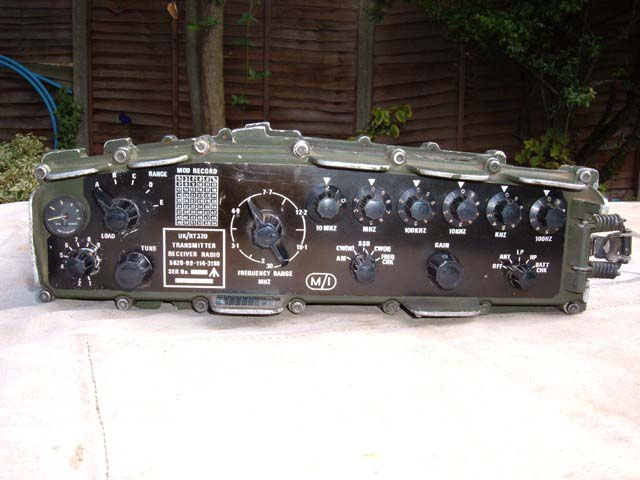 The Clansman RT-320 / PRC-320 is a lightweight HF/SSB radio station designed as part of the British Army's Clansman range of radio equipments for combat use throughout the world. It was used by long-range patrols and Special Forces because of its sky-wave range performance and hand generator system.
The equipment operates in the 2 to 30 MHz band with 100 Hz channel spacing, which gives a choice of 280 000 frequencies. Selection is by decade knobs which control a micro-miniature synthesizer locked to a temperature compensated reference oscillator, giving a high order of stability under all environmental conditions.
The PRC-320 provides SSB (USB), AM, CW (wide) and CW (narrow) facilities. Speech processing and automatic level control are employed to provide whisper speech facilities and a high mean output power.
A transmitter output power of 30 W PEP working into a 2.4 m whip antenna gives the PRC-320 a ground-wave communications range in excess of 40 km by day under normal conditions.
The PRC-320 is suitable for use as a ground station, working into static ground- or sky-wave antennas. Working into a dipole or end-fed antenna, sky-wave communications at ranges from 50 to 2000 km or greater can be achieved. This range performance is due in part to the high grade receiver and high efficiency manual antenna tuning unit (ATU) which is integral with the transmitter/receiver unit. The radio is carried on the operator's back and allows him full use of his weapons. It is powered by rechargeable 24 V Ni/Cad batteries of 1 or 3.3 Ah capacity. Alternatively, the radio can be powered by a hand generator system with a 1 Ah battery, and can be operated remotely if required at a distances up to 3 km.
With its man pack carrier and battery the PRC-320 can be used as a clip-in vehicle installation. A vehicle-mounted antenna is used and the battery is float-charged by a DC charging unit from the vehicle supply.
The equipment and accessories are supplied in very good condition, tested and operational.
Technical Specification
Frequency Range: 2 - 29.999 MHz
Output Power: 30 or 3 W AM: 7.5 W
Channel Spacing: 100 Hz
Number of Channels: 280,000
Modes of Operation: USB, AM, CW wide (2900 Hz), CW narrow ( 400 Hz)
Sensitivity: SSB / CW Narrow 1.7ÁV @ 20 dB AM 7.5 ÁV @ 20 dB
Power Requirements: 20-28 VDC
Power consumption: Receiving 175 mA Low HF output 1.2 A High HF output
Battery: 24 V NiCad
Measurements and weight: 330 x 250 x 90mm, 11 kg
Operating Temperature Range: -37 to + 55?C (plus solar radiation) storage: -40 to + 65?C
Operating Altitude: 2500 meters, Transport: 7500 meters, Immersion: 1 meter for 2 hours
PRC-320 Accessories
Accessories
Option 1
Accessories
Option 2
Accessories
Option 3
Accessories
Option 4
PRC-320 Tested Condition Grade 2
Long BNC Antenna Feeder Cable.
H-39 Handset.
Head Set.
Pressel Switch Box Assembly.
Gas Mask Microphone.
Morse Key.
2* Wire Antenna Reels.
Dipole Centre Junction.
Counterpoise.
2.4 Meter Whip Antenna Rod.
Springy Whip Adapter.
Solar Shield.
Ancillaries Bag.
Light Weight Metal Back Pack
Clansman 24 Volt Rechargeable Battery.
Canvas Back Pack.
PRICE
£425
£475
£520
£545