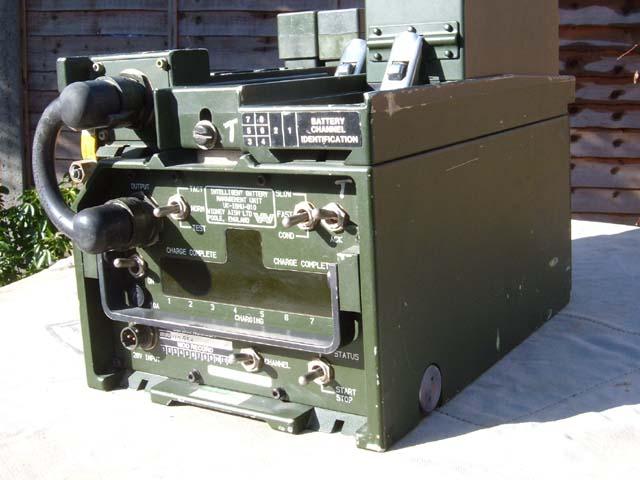 The Clansman Intelligent Battery Management System IBMS type UK-IBMU-810. Manufactured by Widney Aish Ltd, Poole, England.

The unit is a microprocessor based battery charger and conditioner for Clansman Nickel Cadmium batteries. The system comprises of two main units, The IBMS and the interchangeable battery tray. Depending on the battery tray installed the IBMS is capable of simultaneously charging up to eight different Nickel Cadmium ôNiCdö batteries at the same time.

Power on self test ôBITEö and it can provide independent status reports for all the batteries installed in the battery tray. A tactical operation facility enables all the visual LED indicators to be blacked out and all audible warnings to be stopped while the system is operating under a black out conditions.

The IBMS performs four types of battery management operations: Fast Charging in 5 hours, Slow Charging over 15 hours, Trickle Charging until the battery is removed and Conditioning over 24-70 hours. In addition to battery charging and conditioning operations it can also detect faulty batteries.

The IBMS can be used in a mobile field role ôinstalled in a vehicleö or installed at a base station. The IBMU can operate from any 28 volt DC power supply capable of delivering 6A. This would normally be a vehicle power supply or an AC adapter such as the Clansman UK-AC1-2870 ôavailable elsewhere on this website.

The IBMS is supplied in good condition with one battery tray and interconnecting cable. Please select battery tray required below.

Optional Universal Battery Tray:
It can charges six 12 Volt PRC-349 Nickel Cadmium batteries, one 14.4 Volt PRC-350 Nickel Cadmium battery and one Clansman 24 Volt Nickel Cadmium battery for Clansman Man-Pack radios such as the PRC-351, PRC-352, PRC-344 and PRC-320.

Optional Battery Tray 1:
Can charge three 24 Volt Clansman Back-Pack Nickel Cadmium batteries at the same time.

Optional Battery Tray 2:
can charge eight 6 Volt 1.7Ah Rechargeable Nickel Cadmium battery packs at the same time.