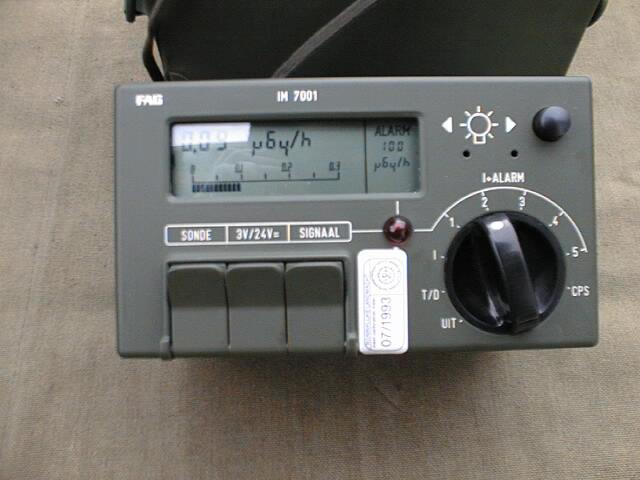 The digital Radiological Test Equipment PDR-7000 is a modern, professional Geiger counter with extensive features. Manufactured by FAG Kugelfischer in Germany to very high military standards.

The counter is auto-ranging with a built-in LCD display that shows the results both digitally and analogue. A power on self test routine makes sure the unit is functioning correctly. The Geiger Counter is so sensitive that it can measure very low normal background radiation. For example, the normal background radiation in London is between 0,07 ?Gy/h and 0,09 ?Gy/h. The unit can take readings externally with a 15 meter probe extension cable and the Gamma Probe DT 7002 as well as the Beta-Gamma Probe DT 7003 and a special probe DT 7004 for testing radiation in liquids.

Operation is by 2 standard 1.5 Volt D size batteries Not Supplied or by a external mains (220-230 V) or by a adaptor from the 12 Volt vehicle supply. The power adapters are supplied with this kit. The test equipment also comes complete with two Carrying Straps, one Earphone and several plastic bags and beakers for taking samples. The complete equipment is stored in a extremely strong airtight and watertight Aluminium carrying case. The equipment is supplied in Brand New condition.

Measurements Units: ?Gy/h or cGy/h (Intensity), in cGy (Dosage) oder CPS (Impulse).
Measuring Range: 0 to 999 cGy/h, 0 to 999 cGy or 0 to 9990 CPS.
Switch-able alarm threshold values in five steps (up to 20 or 100 ?Gy/h,0,1 or 1 or 10 cGy/h).