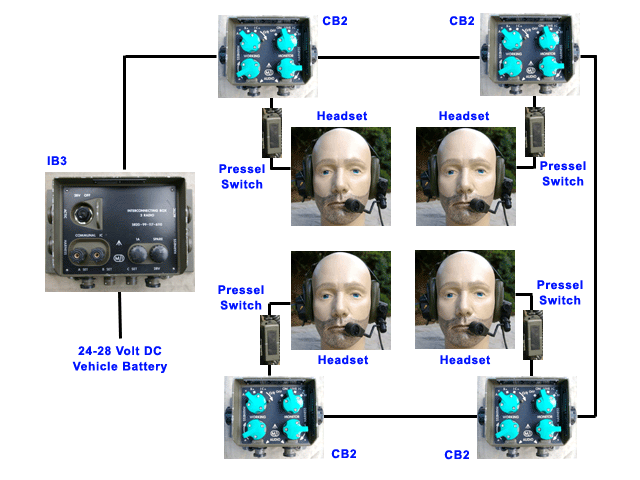 We have been asked many times for a easy Vehicle Intercom set-up. Here we have put together a Clansman intercom kit for up to 4 stations. This set-up uses the Gold Top ANR Active Noise Reduction version of the Clansman harness boxes. The Active Noise Reduction reduces the background noise that maybe present while driving for better voice communication.
This intercom kit can be used stand alone with-out a radio in any vehicle having a battery voltage of 24-28 Volt DC. It can also be used with up to two Clansman radios connected to the intercom.
The main unit in this kit is the Interconnecting Box 3 radio IB3. The IB3 provides audio amplification and DC power for the rest of the boxes. The IB3 can have up to 3 radios connected if used with Crew Boxes 3 Set CB3 but in this setup we are using CB2 boxes which provide connection up to 2 Clansman radios. If you require CB3 boxes with this kit then please let us know.
The IB3 requires 24-28 Volt DC to operate. This is taken from the vehicles power source. The IB3 is fuse protected against short circuits. If radios are connected they can only to be operated in pairs, even if CB3 are used. The IB3 can also allow a remote user to be connected into the harness using a remote handset to communicate with the crew over the intercom but not to control any installed radio.
The IB3 is then daisy chained with 12 pin harness cables to the Crew Boxes CB2, see diagram below.
The CB2 boxes are the main unit by which the personnel can connect into the audio system. Each CB2 allows up to two headsets with Pressel Switches and / or handsets to be connected to the intercom system. The CB2 also allows the operator to select and operate either radio A or B and to monitor the other radio.
We have put together the ANR versions of this intercom kit together for two, three and four operators. Each operator gets a CB2 box with a harness cable and a ANR Headset with Pressel Switch. Please ask for other combinations of boxes and audio accessories.
Select from the list below for the number of operators required. All equipment is supplied in good working order.
Clansman Intercom Kit Options
Two Operators
Option 1
Three Operators
Option 2
Four Operators
Option 3
1* ANR Version Interconnecting Box 3 Radio IB3
1* System Power Cable
2* ANR Version Crew Box 2 Set CB2
2* Clansman Harness Cables
2* Clansman ANR Headset / Microphone
2* Green ANR Pressel Switch
1* ANR Version Crew Box 2 Set CB2
1* Clansman Harness Cables
1* Clansman ANR Headset / Microphone
1* Green ANR Pressel Switch
1* ANR Version Crew Box 2 Set CB2
1* Clansman Harness Cables
1* Clansman ANR Headset / Microphone
1* Green ANR Pressel Switch
PRICE
£205
£280
£355