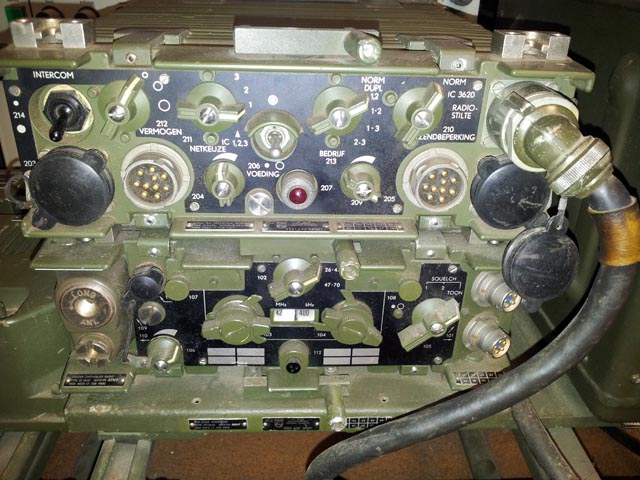 The RT-3600 is a Dutch Army wide band VHF transceiver operating in the 25-70 MHz band. The RT-3600 was made by Phillips Telecommunications Industry in Netherlands. Channel spacing is 50 kHz. Operating distance in open field is between 8 and 30 km. When used with the RF Amplifier ôAM-3600ö output power of up to 45 Watts can be achieved.

Frequency Range : 26.000-69.950 MHz in two ranges
Tuning steps: 50 kHz
Number of Channels: 880
Modulations: FM
Squelch: 150Hz Tone & Squelch
RF-Output (RT-3600): 2 Watts in to 50 Ohms
RF-Output (RT-3600 and AM-3600 Amplifier)
Low Power: 0.95 - 1.75 W @ 50 Ohms
Medium Power: 8-15 Watts @ 50 Ohm
High Power: 25-45 Watts @ 50 Ohm
Antenna: 50Ω"," BNC + Proprietary Control Cable (military)
Power requirements: Mobile 24 VDC, Portable 15 VDC

This radio station is supplied in excellent working condition and looks almost like new!

This setup is supplied as a High Power vehicle configuration and includes the following items, RT3600 Radio Transceiver, AM-3600 RF Amplifier, IC-3620 Intercommunication Unit, LS-3621 Loudspeaker, JB-3620 Junction Box, Hand Set, Cables, Vehicle Mounting Base, Accessories Box, RF-3620 Antenna Mast Base, a set of Antenna Rods and Antenna Rod Storage Bag.