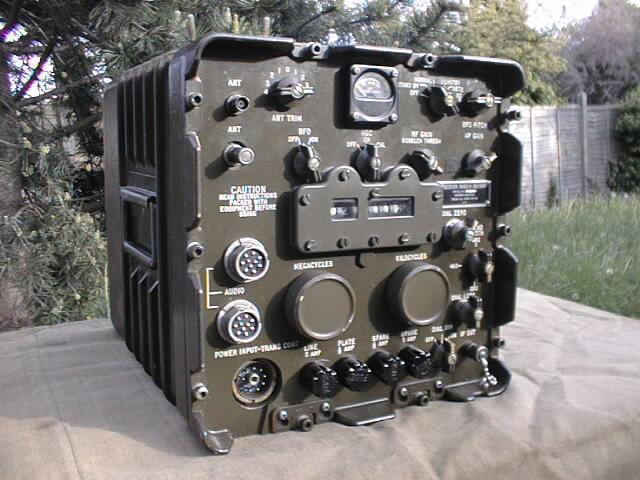 The R-392/URR is the perfect HF Ham Radio receiver for everyday use. It is built to high US military specification to withstand battlefield conditions. A very sensitive HF receiver for the amateur radio enthusiasts who likes to operate the proper old fashioned way. It tunes SSB very easily and sounds great on AM!

R-392 Basic Specifications
Frequency Range: 0.5-32 MHz
Operating Voltage: 24-28 VDC
Size: (W*H*D): 283*293*365 mm
Modes of Operation: AM/CW
Current Drain: 3 Amps Max
Bandwidth: 2, 4 and 8 KHz
Impedance: 50 Ohms

The R-392/URR is the little brother of the famous Collins R-390 receiver, it is designed by Collins and built under licence by a number of manufactures including Collins Radio Company, Philco Corporation, Western Electric and Stewart Warner.The R-392/URR is essentially a R-390 that is re-packaged in a water resistant case. It is ruggerised and is made more compact than the standard R-390 for use in military vehicles and field command posts.It operates from 24-28 Volt DC @ 3 Amps. The radio is very silent in operation as it does not use any vibrators, dynamotors or other noisy voltage converters. The R-392/URR Receiver provides continuous tuning and covers 0.5-32 MHz in 32 bands. AM, CW (Voice or Tone) and SSB using BFO for product detection, Three Bandwidth settings 2, 4 and 8 KHz. Calibration points is provided every 100 kHz throughout its range. The radio can be used as a stand alone receiver or as part of a two-way radio set with a T-195 Transmitter. This configuration was called the GRC-19.

Front Panel Controls:
Function Switch (Off, Stand-By, Normal, Limiter, Net and Squelch), Mechanical Digital Tuning Dial, Carrier Level Meter, Megahertz Control, Kilohertz Control, RF Gain-Squelch Threshold Control, AF Gain Control, Antenna Trimmer Control, BFO Control, BFO Pitch Control, AGC Switch, Dial Zero Control, Dial Lock Control, Bandwidth Switch, Dial Dimmer Switch.

Front Panel Connectors:
One IF and two Audio Connectors, one BNC Antenna Connector and one push-on Antenna Connector, Power Connector (Power Pins A & D +24VDC, Pin E is Ground).

The R-392 HF Receiver is supplied tested and working with a LS-166 Loud-Speaker and a reproduction Operators Manual.