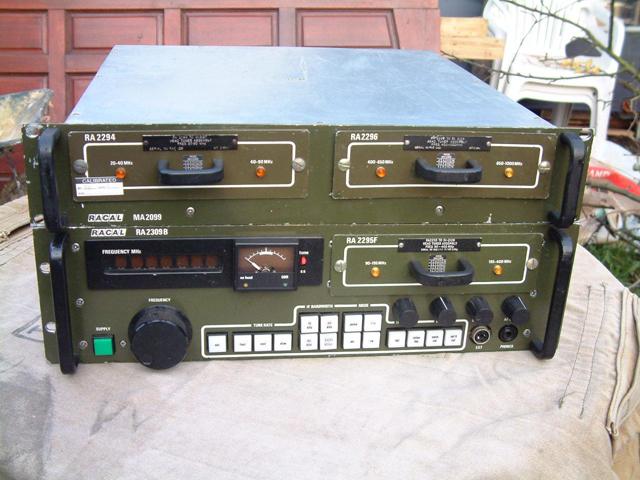 Racal RA-2309B 20-1000MHz Communications Receiver
Racal RA-2309B VHF / UHF Synthesised Communications Receiver capable of working up to 1000MHz. The RA-2309 is the updated version of the earlier RA-2091 communications receiver.

The receiver covers 20-1000MHz in six bands using three interchangeable RF tuner heads.

Tuner Head #1 RA-2294 covers 20-40MHz and 40-90MHz,
Tuner Head #2 RA-2295F covers 90-195MHz and 195-400MHz.
Tuner Head #3 RA-2296 covers 400-650MHz and 650-1000MHz.

The receiver is a fully synthesised with solid state construction and automatic tuner head range switching. A large single tuning control knob with fast, medium and slow tuning speed selections is provided for fast and accurate tuning. LED type frequency readout display, push button function selection. AM, FM, CW, and Pulse operating modes. IF Bandwidth 10,20,50, 300KHz. AGC control, Noise Limiter, IF Gain, AF Gain, BFO, and COR control functions are also provided.

The Receiver is supplied in good working condition with 3 Tuning heads mentioned above and the MA-2099 Tuning Head Holder. Supplies are limited, please E-Mail for availability and price.