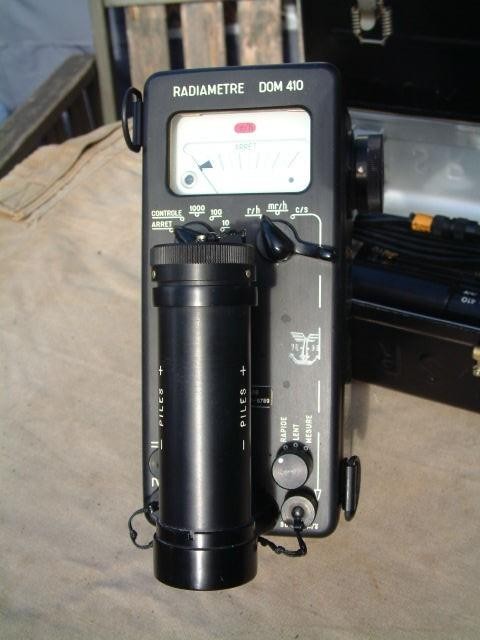 The DOM-410 Geiger Counter or radiation meter was used by Dutch, French and Belgian Army in the late 1970's early 1980's. It is manufactured to high standard under license from SRAT. It is hermetically sealed unit and water tight.

The internal X & Gamma sensor is easily removable and is capable of measuring from 1 Milli Rad per hour up to 1000 Rads per hour.

Six measurement ranges by direct reading on a single scale. The scale is illuminated for night reading.

Overall, it is a very sensitive Geiger counter that is portable and self contained, it is robustly built and designed to take a lot of abuse.

The DOM-410 Counter is powered by two standard 1.5 Volt D cells and is supposed to last up to 16 hours on a fresh set of batteries.

The DOM-410 counter is supplied in very good working condition with-out any accessories. Some accessories and English language manual are available separately.

Explanation of the Controls. Please refer to the diagram below.

(#1) The measuring units window.

(#S) Power and Sensitivity Selector Switch, selects one of the following, ARRET (OFF), CONTROLE (CHECK Battery Status), Range 0-1000, 0-100, 0-10.

(#U) Units Selector Switch, selects one of the following units, R/h, mR/h, c/s.

(#2) Carry handle and battery compartment.

(#T) Time Constant Selector Switch, RAPIDE (FAST), LENT (SLOW), MESURE (MEASUREMENT, Very Slow).

(#3) SONDE, External Probe Connector.

(#4) External Warning Light Connector.

(#5) External Headset Connector.

(#6) Internal Gamma Probe.

(#7 & #8) Rings for securing carry strap.