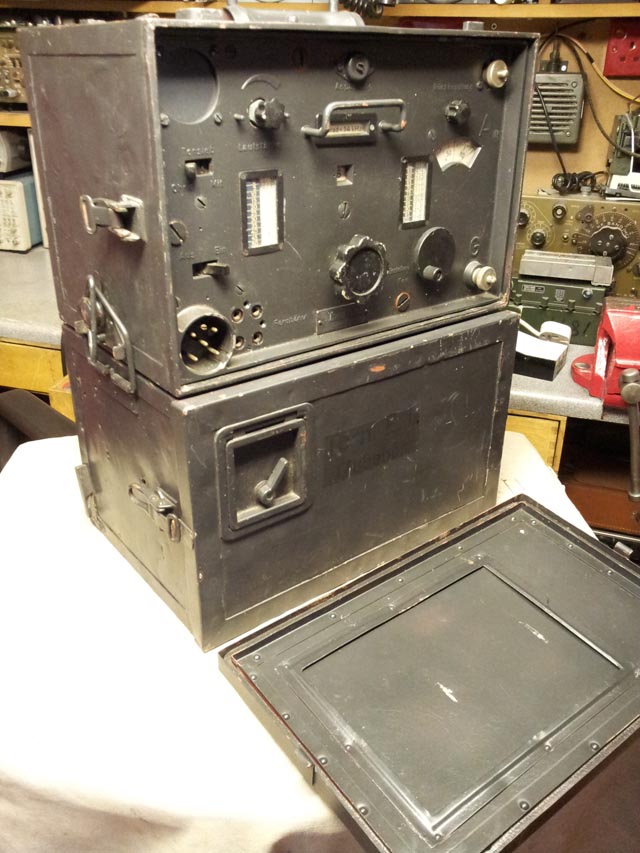 The set consists of two units that are clip-able together above each other, the radio receiver and power supply box. The cabinets were meant to be carried on the back of a soldier, and the units are called Tornister' and Empfanger the German word for receiver, the letter 'b' in the designation simply indicates which receiver type.

The designator was shortened to Torn E b. The Torn E b was created around 1935/36. It was in general use with the German Signal Corps, but also at higher army staffs, police and traffic control authorities.

The radio is a tuneable radio frequency type set with four filament tubes that were run from a 2 volt battery at 0.2 A. The anode current came from a 90 V. dry battery at a consumption of about 12 Ma. The set covers the frequency band 100-6970 kHz in eight ranges.

This particular set is made later in the war and is dated 1943 and is in very nice untested condition. It includes the very rare and hard to find power cable and battery box. The battery box is missing its internal shelf and is corroded internally, see pictures.