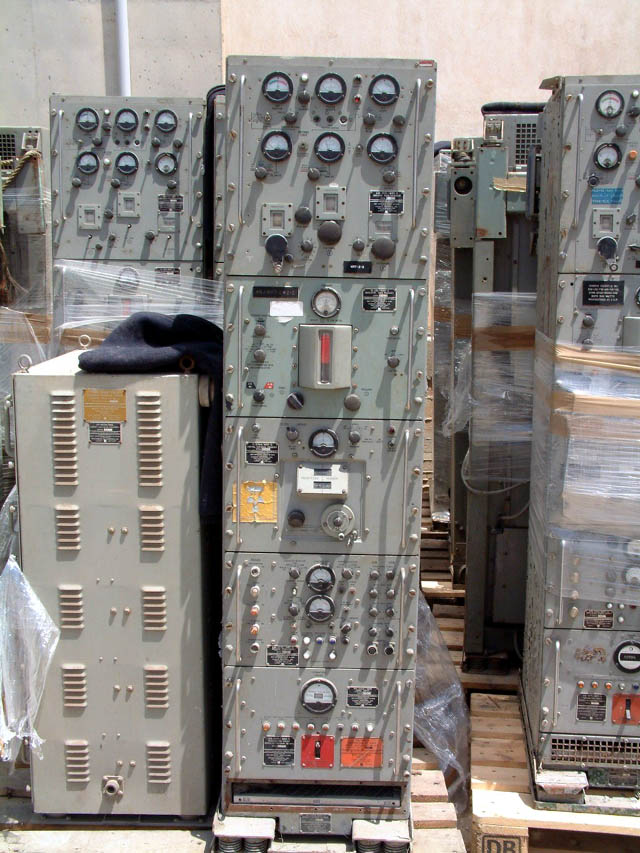 Here is a transmitter for a serious radio ham or collector / restorer who likes a challenge and wants a piece of US naval history. Perhaps you are restoring a radio room in a ship and need some units or the complete transmitter.
These transmitters were made by Cosmos Industries and some of them are from the famous USS Gurke D-783 which was a DD type destroyer before it was finally sunk in 1977 in naval exercises. See
http://www.ussgurke.org/history.htm
Only a few hundred WRT-2's were ever manufactured by a few manufacturers for the US Navy and very few remain in existence in private collections and ship museums today, most were sunk in naval exercises or destroyed.
The AN/WRT-2 Transmitter was commonly used on board US Navy Ships in the 1960-70's in conjunction with R-390(*)/URR or R-1051 receivers. The AN/WRT-2 covers 2-30 MHz HF band. The output power is 500 watts in AM mode and almost 1000 Watts on side bands and CW. The WRT-2 was unique at that time as it had a unique frequency locking scheme. Modes of operation are AM/USB/LSB/ISB/FSK/RTTY. Works from 115/220/440 Volt 60 Hz AC 3 phase.
The transmitter cabinet is six feet tall and is made out of five pull-out units that tilt, swivel and luck into position for easy access and servicing.
The units in the transmitter are as follows, from Top:
AM-2121/WRT-2, Amplifier Radio Frequency.
O-581/WRT-2, Oscillator Radio Frequency.
C-2767/WRT-2, Control Electrical Frequency.
AM-2122/WRT-2, Amplifier Power Supply.
PP-2222/WRT, Power Supply.
CY-2558/WRT-2, Cabinet
We have available individual units and complete transmitter cabinets. The transmitter and units are available in good complete condition untested Grade-3. Sea freight is the only option. Please E-Mail for details and shipping costs.