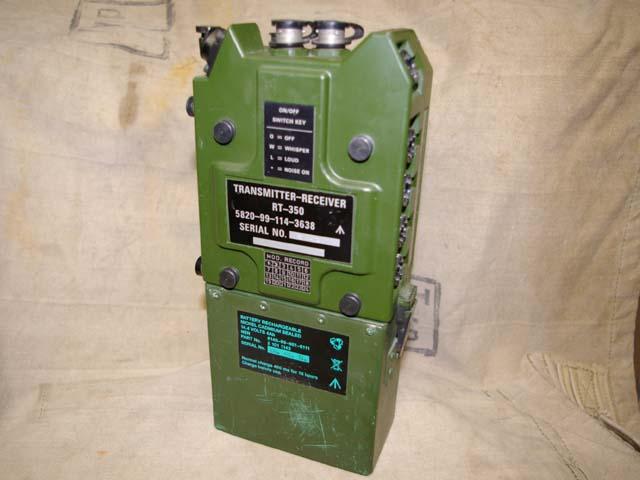 The Clansman RT-350 / PRC-350 is a narrow-band FM VHF man-pack radio that operates from 36-57MHz in 2KHz steps, total of 841 programmable channels with 2 Watts output. The radio operates from a 15VDC battery pack. The desired frequency is set by four knobs on the side of the radio which can be operated even while the operator is wearing Arctic mittens, or in the dark by counting clicks from the end-stops.

Having set the four frequency control knobs the operator has then to set the only remaining control, the system switch, to one of its four positions: Off, Whisper, Loud and Noise-On.

In the Whisper position the audio output is reduced by a factor of 10 and the microphone sensitivity is increased by about the same amount. This position is used in situations close to the enemy where a minimum amount of noise is desirable.

The Loud position enables the set to be used in conditions of high ambient noise levels, such as may be encountered in active service.

Noise-On position the squelch or muting circuit is disabled and receiver noise is heard in the absence of a signal.

The optional accessories include a Terylene harness for carrying the set on the hip or back, Battery Pack, Flexible Antenna & 2 meter Long Whip Antenna.

Normally the 2 Meter Whip Antenna is used and a rotating mounting socket on the set enables the rod to be rotated rough 90? when the operator is lying down. The headset and handset provided with the complete station can be connected to the set at the same time to enable an officer or a second operator to monitor the radio.