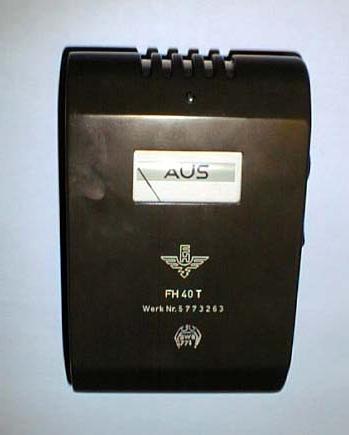 FH-40T West German Geiger Counter
The FH-40T is a very sensitive Geiger Counter for measurement of Beta and Gamma Radiation. Manufactured by Frieseke & Hoepfner in Germany it was used by the West German Army during the cold war. Measures Beta and Gamma radiation in the ranges of 0-1 R/h, 0-25 mR/h and 0-0.5 mR/h. Very low radiation levels can be measured with this device. A Probe Extension is provided for distant measurement and a Ear Piece for audible indication. The counter is radiation proof 1-10000mR/h as well as 0-320 Impulse/Minute. Analogue display of radiation level. Operates from a 6VDC Battery. Approx. Size 16 * 10 * 4.5 cm.

The FH-40T is supplied complete with all accessories in As New condition in it's original protective wooden carrying case. Accessories include 2 spare Geiger-Muller Tubes, a Ear Piece, 2 Leather Carry Cases, a Probe Extension with Clamp and a Operators Manual.