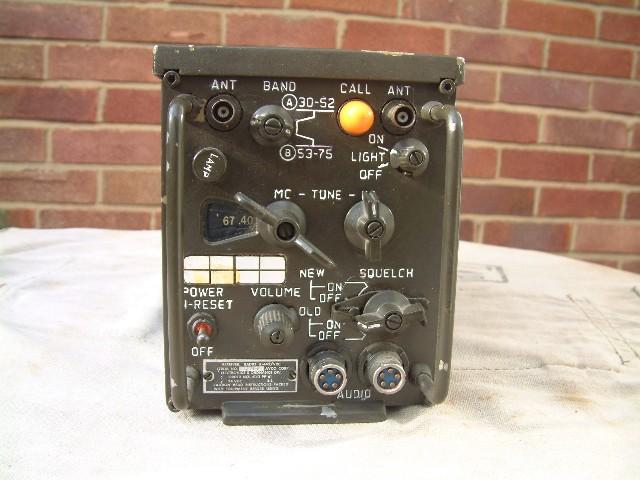 The R-442/VRC is a VHF FM radio receiver working in the 30-75.95 MHz range and has 920 channels.This receiver is part of AN/VRC-12 vehicle radio station, typically used in M151 Truck, Utility: ?-Ton, 4x4 Mutt Jeeps series of vehicles as well as in older Humvee's and Tanks. The radio can be used on its own as a VHF receiver or with the RT-524 as auxiliary receiver. The radio receiver operates from 24-28 VDC @0.75A.
The R-442/VRC is supplied in good working order Grade 2. Accessories and cables are also available. See Related products at the bottom of this page.
R-442/VRC Specifications:
Frequency range
30.00 to 75.95 MHz
Channel spacing
50 kHz
Number of Channels
920 Channels
Mode of Operation
Voice frequency modulated (FM)
Receiver stability
Crystal controlled, + 3.5 kHz of nominal frequency
Receiver Sensitivity
0.5 ?V for 10 dB (S+N+D)/(N+D) for 8.0 kHz deviation
Circuit
Super-heterodyne single conversion
Image Rejection
Greater than 85 dB
IF Bandwidth
32 kHz minimum @ 6 dB. 85 kHz maximum @ 60 dB
Squelch
150-Hz tone-operated or noise-operated, with RF signal having 10 dB (S+N+D)/(N+D) ratio
Limiting
Less than 1 dB change in audio output for RF input from 1 ?V to 100,000 ?V
Distortion
Less than 8% from 500 to 3000 Hertz
Audio Output
500 mW into 600-Ohm speaker 150 mW into 600-Ohm headphone
Volume Control
Adjustable from less than 0.25 mW to 1.0 W maximum
Operating Temperature
-40?C to +65?C (-40?F to +14?F)
Power Requirement
24-28 VDC @0.75A
Dimensions
6H x 5W x 13D. (15.2 cm x 12.7 cm x 33 cm).
Weight
18.5 lbs. (8.4 kg).