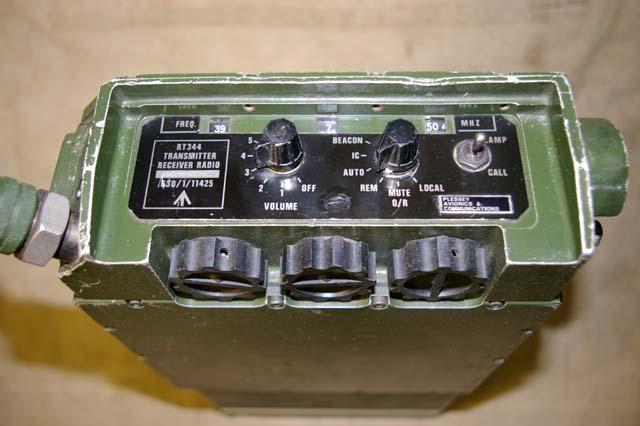 This is a British military Clansman RT-344 / PRC-344 UHF Man-pack Transceiver. Made in the late 70's by Siemens Plessey Defense Systems in Christchurch, England and was used by the British Army and the Royal Netherlands Marine Corps.

The PRC-344 is a light weight Solid-State UHF/AM Transmitter/ Receiver operating in the frequency range of 225 to 399.95 MHz band with 50 kHz channel spacing giving a total of 3500 synthesized channels. Channel selection by three decade rotary switches, Controls for mode selection and volume level.

Transmitter output 2.5 Watts with an operational range of greater than 160 km. built in Rescue Homing Beacon facilities. Remote-Control facilities up to 3 km using 2 core wire and Re-broadcast facilities. The radio operates from a standard Clansman 24 Volt battery.

The Clansman PRC-344 was mainly used for ground-to-air links between combat troops and their supporting ground attack aircraft and for control communications for emergency airfields and helicopter landing pads.